AX Flush-Coupled Casing
AX Flush-Coupled Casing
PEERCHEER

WUXI

5-10 days

1500-2000 pieces per month
PEERCHEER offers AX casing for use with AQ core system. AX casing is intended for single use or situations where the AX casing is left in the hole. AX casing is made from high quality alloy steel tubes. AX casing utilizes the AX straight thread (4 threads per inch). AX casing is universal in design and can be used in any DCDMA A size hole drilling application where threaded casing is required to be left in the ground.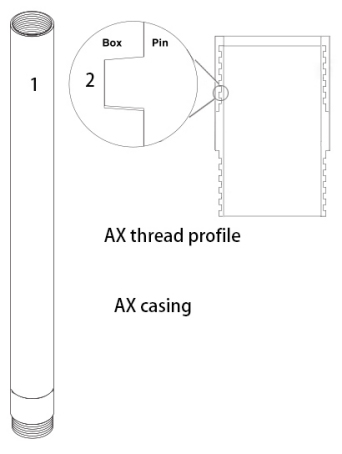 AX casing configuration:
1-AX casing overview
2-AX casing box and coupling pin thread profile
NOTE:
(1)1.5 m/5 ft, 3 m/10 ft,4.5 m/15 ft and 6 m/20 ft
AX casing are available.
(2)AX casing coupling is little bit thicker than casing tube.
| | | |
| --- | --- | --- |
| AX Nonimal Parameter | Metric | Imperial |
| AX Casing OD | 57.10 mm | 2.25in |
| AX Casing ID | 48.40 mm | 1.91in |
| AX Casing Weight | 17.0 kg/m3 | 38.0 lb/10 ft |
| AX Casing Thread Pitch | 3.18 mm | 8 in |
| AX Casing Pin Thread Length | 57.50 mm | 2.26 in |
AX Casing Package Specifications
3.0 m/10 ft Casing Bundle (25 Pieces)
Dimensions (L x W x H) 3100 x 410 x 460 mm
Volume 0.58 m3
Gross Weight 445 kg
1.5 m/5 ft Casing Bundle (25 Rods)
Dimensions (L x W x H) 1600 x 410 x 460 mm
Volume 0.30 m3
Gross Weight 235 kg
Container Shipments:
20 ft container load of 3.0 m/10 ft casing holds 35 bundles (around 880 pieces)
40 ft container load of 3.0 m/10 ft casing holds 45 bundles (around1120 pieces)