HWT Wireline Casing
HWT Wireline Casing
PEERCHEER

WUXI

5-10 days

1500-2000 pieces per month
PEERCHEER offers HWT casing for use with HQ core system. HWT casing is engineered to surpass expectations for a casing and features quicker make-up and easier break-out characteristics than the standard HW casing. HWT casing works well under difficult drilling conditions and is designed for repeated application. HWT casing can be used in any DCDMA H size hole .HWT casing has tapered HWT thread provides increased strength and easier make and break-out.(2.5 threads per inch).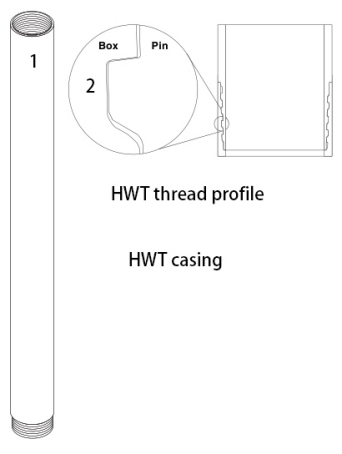 HWT casing configuration:
1-HWT casing overview
2-HWT casing box and pin thread profile
NOTE:
(1)1.5 m/5 ft, 3 m/10 ft,4.5 m/15 ft and 6 m/20 ft
HWT casing are available.
(2)HWT casing is compatible with PHD rod.
| | | |
| --- | --- | --- |
| HWT Casing Nonimal Parameter | Metric | Imperial |
| HWT Casing OD | 114.30 mm | 4.50 in |
| HWT Casing ID | 101.60 mm | 4.00 in |
| HWT Casing Weight | 52.20 kg/m3 | 117.00 lb/10 ft |
| HWT Casing Thread Pitch | 10.16 mm | 2.5 in |
| HWT Casing Pin Thread Length | 62.74 mm | 2.47 in |
HWT Casing Package Specifications
3.0 m/10 ft Casing Bundle (25 Pieces)
Dimensions (L x W x H) 3100 x 700 x 750 mm
Volume 1.63 m3
Gross Weight 1315 kg
1.5 m/5 ft Casing Bundle (25 Pieces)
Dimensions (L x W x H) 1600 x 700 x 750 mm
Volume 0.84 m3
Gross Weight 665 kg
Container Shipments:
20 ft container load of 3.0 m/10 ft casing holds 12 bundles (around 300 pieces)
40 ft container load of 3.0 m/10 ft casing holds 18 bundles (around 450 pieces)